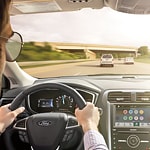 The Ford Fusion is a vehicle that is known for its power and ability to perform. It comes with Auto Start-Stop Technology. It will automatically turn off your engine when your vehicle has stopped. Even though the engine is turned off, your air conditioner will still work. If you are playing music, then it will stay on. This feature is designed to help you save fuel. It can also reduce the vehicle's emissions.
Intelligent all-wheel drive is another one of the features that you can use. It helps balance the torque between the rear and front wheels. It will balance traction and handling. This feature will help prevent wheel slip.
Electric power-assisted steering is another feature that will make it easier for you to drive. You will have responsive steering and impressive driving. It can also reduce unwanted steering.