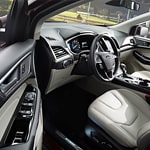 When it comes to great design, it's hard to surpass what the popular Ford Edge has accomplished. This mid-size SUV has fast become a leader when it comes to great design both inside and out. Take a look at two top design features on this year's Edge.
It's important to know what's going on behind your vehicle. While all SUVs come with a rearview camera system, the Edge goes a step further by offering a 180-degree multi-angle rearview camera. This allows you to get a greater view of the world behind you. To allow better visibility, the Edge is also equipped with powerful LED headlights and LED taillights.
Get into a Ford Edge and see what this amazing mid-size SUV can offer. Take a test drive at Mt. Orab Ford today. Our sales team is authorized to offer you incredible financing and leasing options on all Ford Edge models. Don't miss these deals.