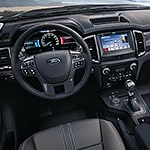 Ford has always been known for its great pickup trucks, which are the workhorses of many small businesses in the United States. The Ford Ranger is a great new midsize pickup truck that has stylish design elements on the exterior and interior. Here is what we love about the Ranger at Mt. Orab Ford.
The exterior of the Ranger is both stylish and functional. The twin power domed hood works with the low-angled windshield to reduce wind noise inside the cabin. High angles for the wheel arches make the Ranger a great all-terrain vehicle as it can easily climb over obstacles.
Inside, drivers will enjoy a combination of style and function. You'll get firm and supportive seating along with a control display that is easy to see and operate. A suite of available driver-assist technologies and navigational features will keep you safe and information wherever you happen to travel.